Needle Felting Starter Kit Great for Arts & Crafts, Decorations, Ornaments & Easy for Beginners
$28.00 $30.00
UNIQUELY HANDCRAFTED – support the budding artist in your family and encourage their creative side with our Owl Needle Felting Kit!

ALL IN 1 COMPLETE KIT - each kit comes with everything you need to create your own Woolbuddies, including step-by-step photo instructions, six felting needles, and a 16 pack of colored hypoallergenic wool

FUN FOR THE WHOLE FAMILY - Great for kids and adults alike, Woolbuddy Needle Felting Starter kits are easy to assemble, completely adorable, and help children and

SOFT & DURABLE – Wool felt toys are not only super comfortable and squishy for little children, they're also tough enough to be used as cat toys for ornery kittens. Great for hugs, squeezes and light tosses, kids and cats love them!

SATISFACTION GUARANTEED - at Woolbuddy, we take great pride and care in manufacturing and developing only the highest quality products for our new and loyal customers
Ready to add a new art to your craft routine?
Now YOU can needle felt like a pro in 15 minutes or less, even if you've never done it before, with Woolbuddy's Needle Felting Starter Kit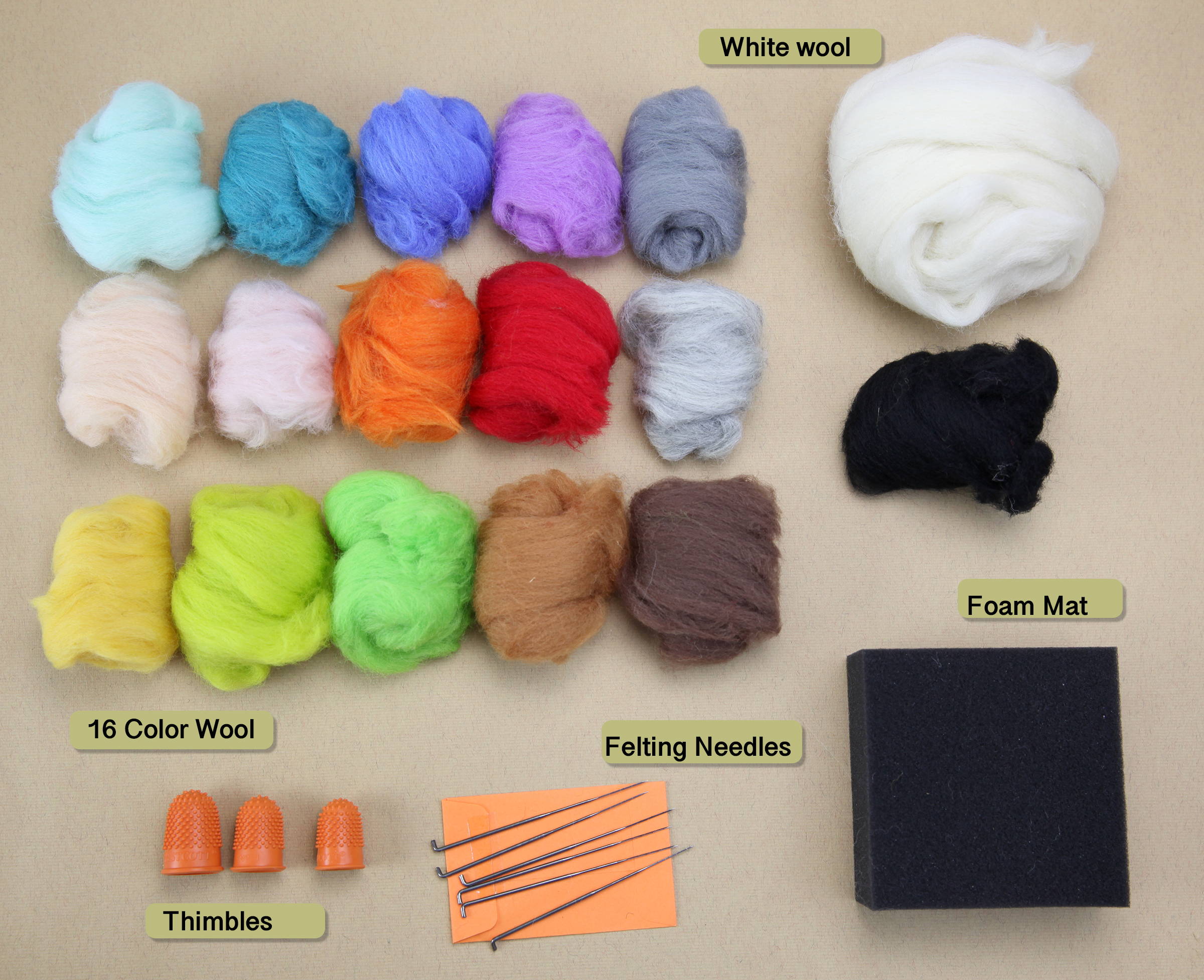 • UNIQUELY HAND CRAFTED – support the budding artist in your family and encourage their creative side with our Needle Felting Starter Kit!
• ALL IN 1 COMPLETE KIT - each kit comes with everything you need to create your own Woolbuddies, including step-by-step photo instructions booklet, six felting needles size 36, white wool 40g and 16 pack of colored hypoallergenic wool 10g, three different size thimbles, working foam mat 10cm x 10cm x 4cm
• FUN FOR THE WHOLE FAMILY - Great for kids and adults alike, Woolbuddy Needle Felting Starter kits are easy to assemble, completely adorable, and help children focus and creative
• SOFT & DURABLE – Wool felt toys are not only super comfortable and squishy for little children, they're also tough enough to be used as cat toys for ornery kittens. Great for hugs, squeezes and light tosses, kids and cats love them!
• SATISFACTION GUARANTEED - at Woolbuddy, we take great pride and care in manufacturing and developing only the highest quality products for our new and loyal customers
Great for all experience levels : Whether you are a beginner or experienced, young or old. woolbuddies can be created and enjoyed by people of all ages and levels.

Easy to learn : Needle felting uses a very simple technique. Your first woolbuddy can be made in less than an hour. Some other crafts take months even years to learn.

Special bonus : Still don't know how to start? Order Woolbuddy starter kit now and you will receive a special online free needle felting class with Woolbuddy creator: Jackie Huang.