Designed to suit all ages and skill levels
Best DIY Needle Felting Kits
With easy-to-follow instructions, our kits make it fun and accessible for anyone to start their needle felting journey... Handcrafted Felt Ornaments
Add a whimsical touch to your living room, or find the perfect gift. These decors will absolutely bring joy to any space.
Perfect for crafting and DIY projects.
Beautiful Colored Wool Roving Collection
Elevate your projects with the touch of natural fibers and vibrant hues... You can never go wrong with Woolbuddy
Premium Quality Felting Supplies
Choose the best wool fibers, mats, tools and supplies for your felting projects...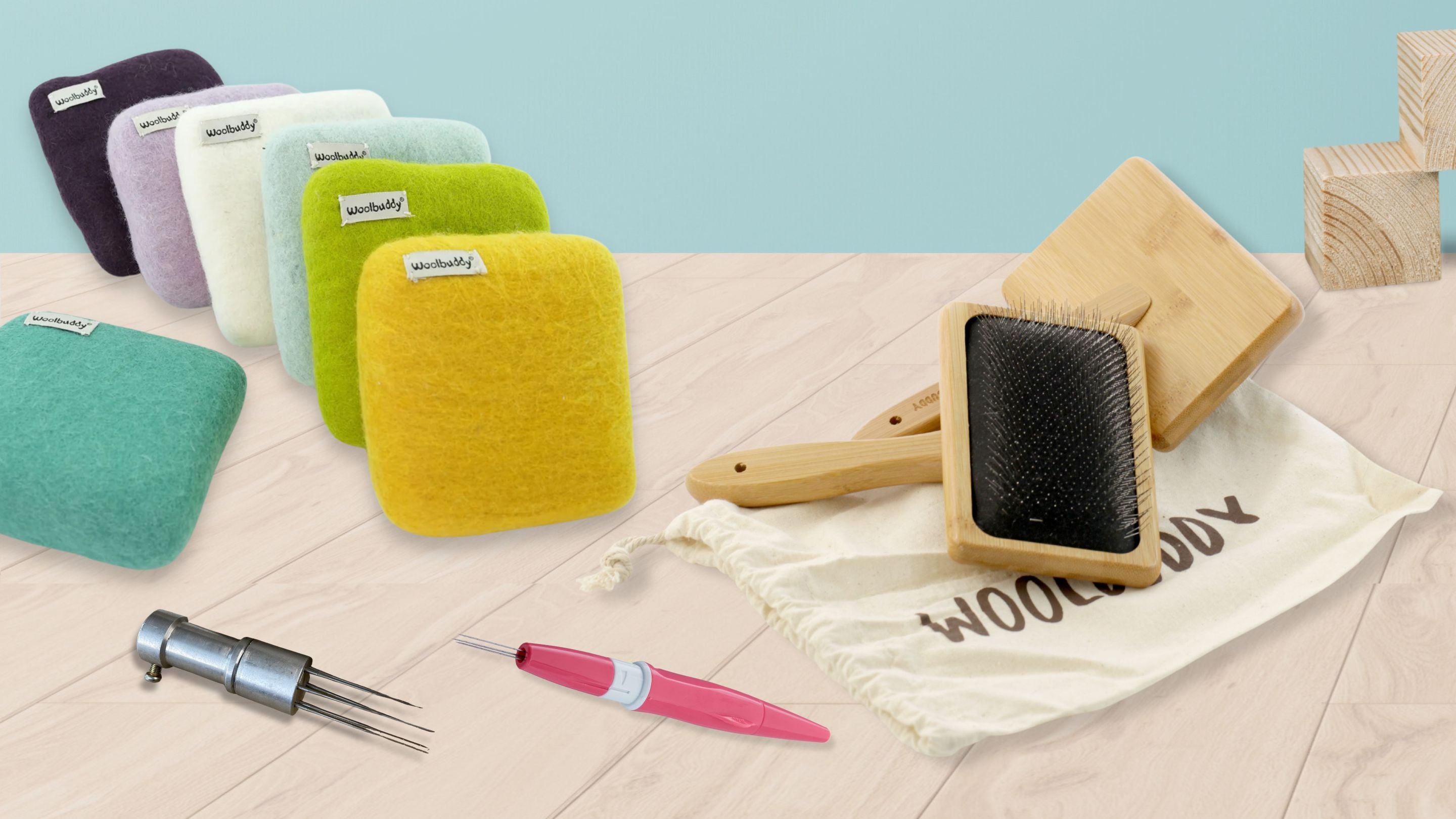 Be Creative
Unleash your artistic side and craft adorable needle felted creations with ease
Welcome to Woolbuddy!
Your Go-to Destination for All Your Needle Felting Needs
Experience the satisfaction of creating beautiful felted art with Woolbuddy. Browse our wide range of needle felting supplies, kits, tutorials, wool and more to start creating adorable felted animals and bringing your felt ideas to life...
ABOUT US
Woolbuddy
Is a a US-based family-run business that shares the art of needle felting and the joy of handmade woolen toys and ornaments.

Founded by Jackie Huang, a former Lucas film 3D story artist and art teacher, embarked on this journey with a simple desire - to create something special for his newborn daughter.

Today, that same passion drives us to share our handcrafted treasures with you. Together, let us experience the joy needle felting brings...
READ MORE
Learn How to Needle Felt for Beginners
Access Free Felting Tutorial Videos ★★★★★

A Great introduction to needle felting!!!

This kit is a great introduction to needle felting. I had never done any needle felting before this. It does take practice to get the technique down. There are many Woolbuddy tutorials on YouTube that I watched & highly recommend watching. This starter kit gives you lots of wool colors to work with and other tools you need to get started.

N. Patterson
★★★★★

Great Set. Especially for the beginner


I purchased it for something to do after surgery. It's so much fun and relaxing. I love it.

Cheryl A.
★★★★★

Excellent Beginner's Needle Felting Kit

I am very impressed with this little kit. Nice colours of felt and a sufficient amount of needles. The instructions are straightforward, with nice pictures. For a beginner it is hard to determine how much felt to use for each part (which isn't explained in the instruction book) but with experience and a few YouTube videos it's not hard to figure out. I definitely recommend this needle felting kit.

SW
★★★★★

Great kit fun Activity!


My ability to the side this kit is great. It came with a literal trove of wool. A large range of colors from earth tones to bright colors. We used very little and feel like you can make 15+ mini characters vs the 6 it says.

The qr code takes you to their website for some tutorial videos for advice in general as well as instructions to make specific characters. I really enjoyed it and felt like it was thoughtfully curated. There is everything here needed to get going so I loved it for beginners like us.


L. Sandoval

Los Angeles, CA
★★★★★

Great Felting Kit

This kit is great and comes with everything! So many different colors and a variety of needles. Comes with instructions to get you going too. Very beginner friendly. Can't wait to get creating with this kit.

M. Brinkmann

Los Angeles, CA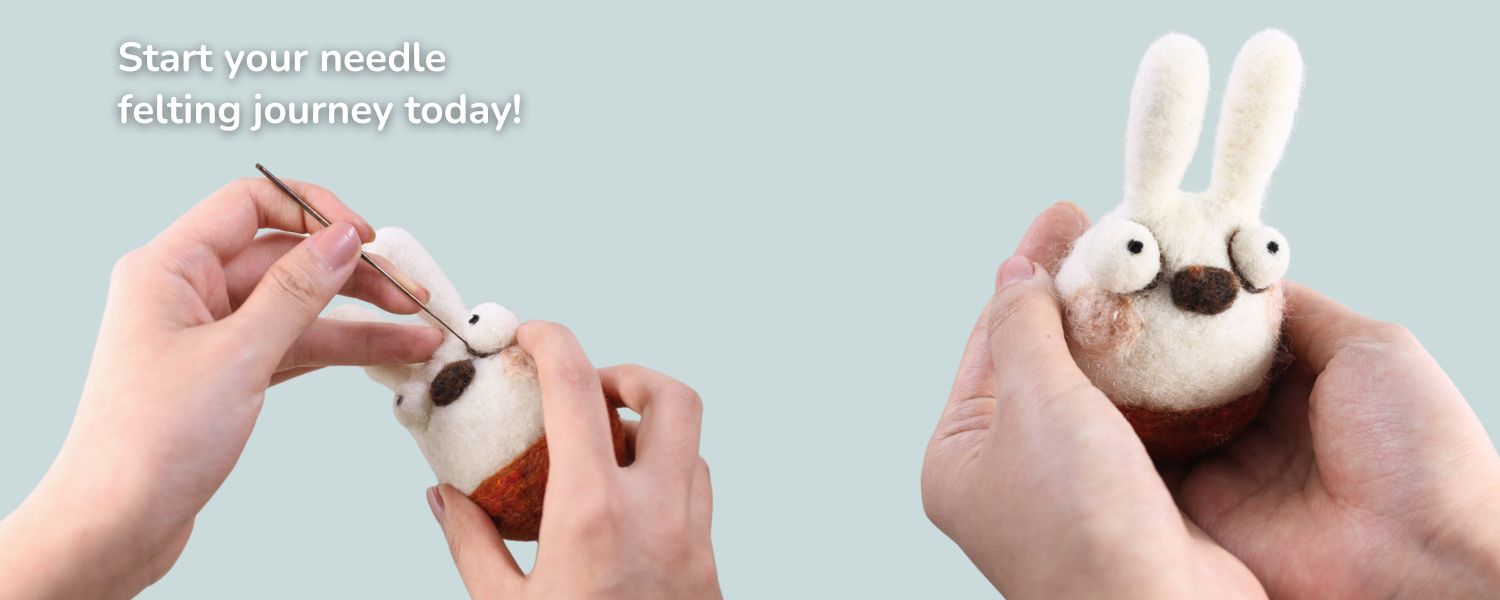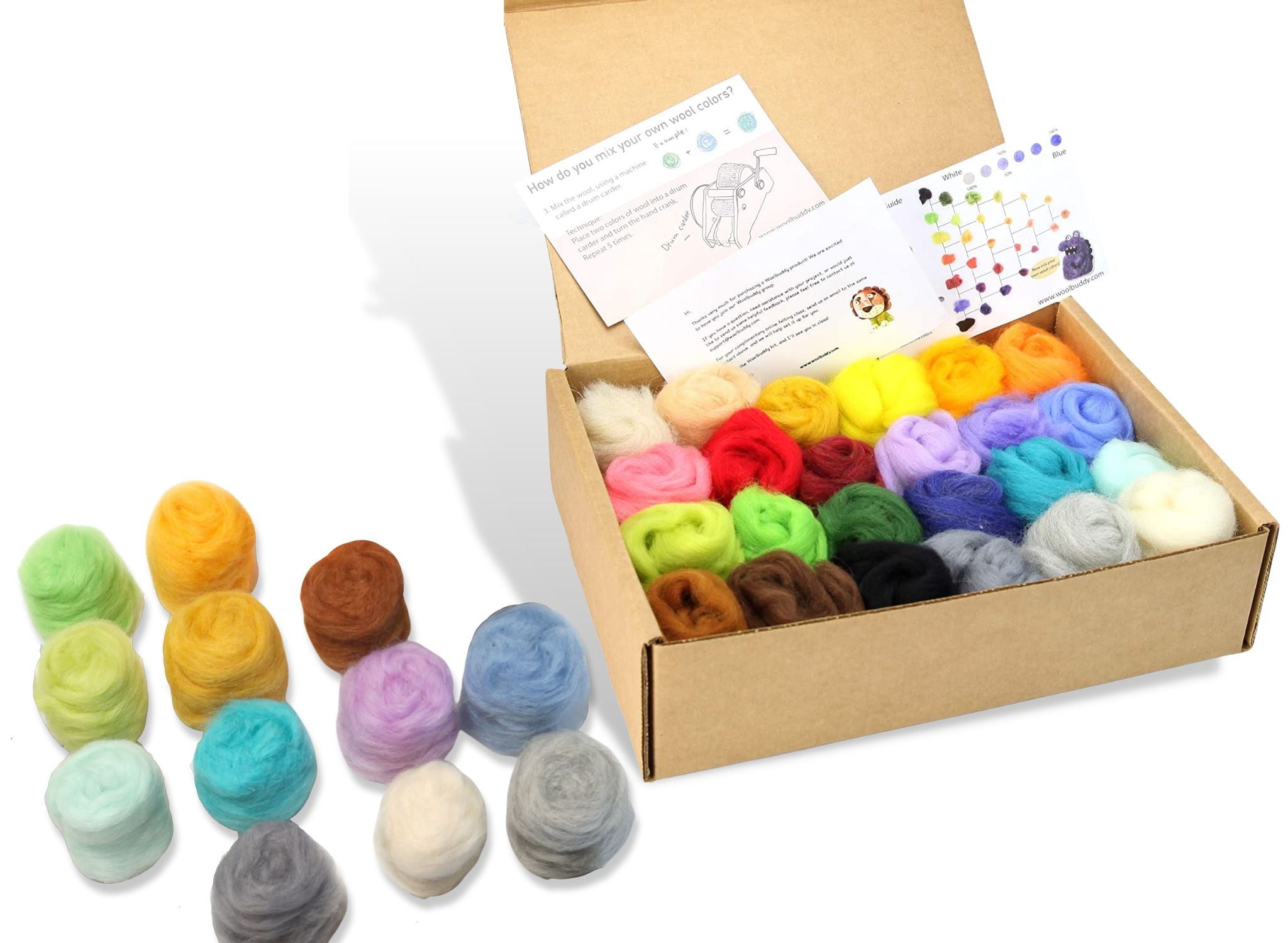 Dive into a kaleidoscope of colors!
Beautiful Colored Wool Roving for felting
a wide array of beautiful shades, allowing you to bring your artistic visions to life.
SHOP WOOL
Woolbuddy is a Customer Centric US-Based Company & Family-Run Business. It offers a wide variety of Needle Felting Supplies, Kits, Wool, Mats, Felted animals and more.
You can access our free felting tutorials on our Youtube Channel. Explore the wide range of topics and techniques available. Click Here
Absolutely! Needle felting is a versatile and accessible craft suitable for crafters of all levels. Our beginner-friendly kits and resources will guide you every step of the way, ensuring a delightful felting experience.
As of now, we do not offer international shipping directly through our Shopify store. However, international customers can still purchase our needle felting kits and supplies through our Amazon Shop. We apologize for any inconvenience this may cause, but we want to ensure that everyone around the world has access to our delightful products. So, feel free to visit our Amazon Shop and start your creative journey with Woolbuddy regardless of your location! Happy felting!

Amazon Shop


Each Woolbuddy Needle Felting Kit contains felting wool, felting needles, easy-to-follow instruction booklet and link to online tutorial videos.